Champaign County, Illinois
Homer, Illinois
Leave Catlin by going W. on Vermilion St. (1350N or Catlin Homer Rd. Continue for 10.2 miles (½ mile past N300E Rd.). The Trail of Death marker is on your right (north of the road), on the west side of a farm driveway.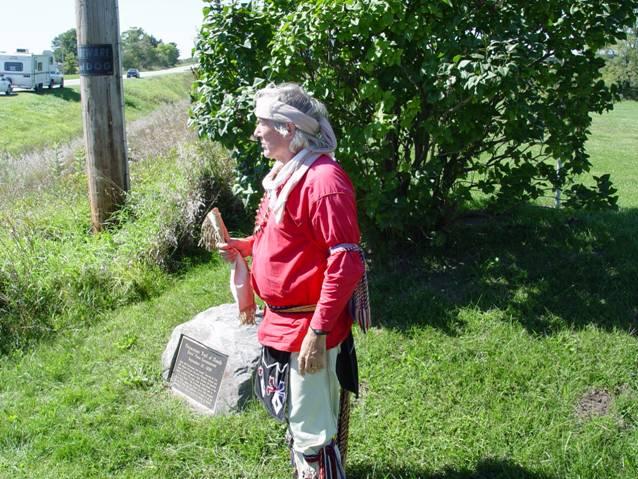 Homer, Illinois - Davis Point. GPS N-4002869 W-8753382.
This was called Davis Point in 1838. Located on 1230 N (Catlin - Homer Road) 1/10th mile east of 250 E, about 3.6 miles east of Homer. Erected in 1991 by Boy Scout Andy Chase for Eagle award. George Godfrey stands beside the marker, which is on private property by a farm drive way to the farm house. (Photo by Larry Prichard, Lynn, Indiana, on Trail of Death Commemorative Caravan, 2003.)
Thursday 20th Sept. [Traveled 10 miles from Sandusky's Point (Catlin) to Davis' Point, near Homer, Illinois.]
At 3 o'clock we were up and busily preparing the discharge of the volunteers. At sun rise they were mustered and marched to Head Quarters, where, after being addressed for a few moments by General John Tipton, they were discharged and paid off. Sixteen of the mounted volunteers were retained, upon a requisition of the Conductor (William Polke) and are now under the charge of Ensign Smith. At 9 o'clock a few hours before which an elderly woman died, we prepared for our march. We left the camp at half past 9. General Tipton took his leave (went home to Logansport), and Wm. Polke is now in charge. While on the march a child died on horseback. A death has also occurred since we came into camp this evening.
Continue west on Catlin Homer Rd. 3.6 miles to Homer. Go straight west through town on CR15 (1050N) which takes you to Sidney.