Macon County, Illinois
Decatur
Entering Decatur on highway 105, turn west (right) onto 105 and continue to follow it when it turns south at Junction 121 and Eldorado Street. Follow 105 going south and continue with it as it curves west along the lake shore and is called Lake Shore Drive. Turn north (right) on Martin Luther King Jr. Dr. and go around the Mueller Park by turning east (right) on Marion Street, and right again on Hilton Street. Enter the park from the east side on drive way. The Trail of Death marker is in a grassy area near the trees to your left. You can see Lake Decatur to the south.
Wednesday 26th Sept. [Traveled 14 miles from Sangamon Crossing to Decatur, Illinois.]
Left our camp at Sangamon Crossing at 8 o'clock in the morning and proceeded on our route. The sick appear somewhat recruited. Owing to the indisposition of our physician no report has been made since Monday. We have reason to believe that the health of the camp is returning. [Note: this diarist is either very optimistic or not very observant.] The weather still continues delightful - the roads, however, are again becoming dusty. Provisions and forage seem not so scarce as farther back - the country through which we are now passing seems more thickly settled. We are now encamped near Decatur, Ill., 40 miles from Springfield. A child died after dark.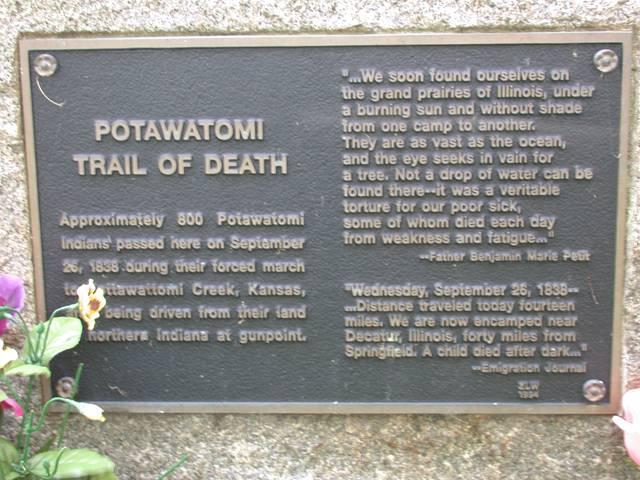 Decatur, Illinois - Mueller Park. GPS N-3949609 W-8856846.

Located in Mueller Park on north side of Lakeshore Drive, across from Lake Decatur near west end of lake. Erected in 1994 by Zita and Bernard Wright, Decatur. (Photo by Larry Prichard, Lynn, Indiana, on Trail of Death Commemorative Caravan, 2003.)

To leave Mueller Park, follow the drive way and exit the park until Lake Shore Drive again, heading west. Angle toward the north at E. Lake Shore and enter highway 51, going north. Turn west (left) on West Main Street. Go 4.1 miles and turn north (right) on N. Wyckles Rd. Go about 2 blocks to the traffic light and turn west (left) on Eldorado Street (US 36). This will be the entrance ramp to I-72. After 0.4 miles, turn right to remain on Old US 36. This takes you under I-72 as you head west on Old 36 to Niantic.