Wesaw family Honored at Trail of Courage
by Shirley Willard, Fulton County Historian
The Wesaw family were the honored Potawatomi at the Trail of Courage, Sept. 19-20, Rochester. The Trail of Courage Living History Festival honors a different Potawatomi family each year in its presentations of frontier Indiana. Matthew Wesaw was presented a Key to the City at the Opening Ceremony on Saturday at 10 a.m. Sept. 19, 2015. Similar ceremonies will be held Sunday morning Sept. 20. The location is the Fulton County Historical Society grounds four miles north of Rochester, Indiana, on US 31 and Tippecanoe River.
Brothers Gerald Wesaw and Tom Wesaw sponsored the Trail of Death historical marker at Niantic, Illinois, in 2000. Gerald's son, Matt Wesaw, was the tribal chairman 2009 to 2013 of the Pokagon Band of Potawatomi with headquarters at Dowagiac. Matt was a Michigan State trooper for 26 years. As tribal chairman, he helped establish the Four Winds casinos in New Buffalo, Hartford, and Dowagiac. He and his wife Gloria have four grown children and 10 grandchildren. He was born in Bangor, Michigan, 62 years ago.
Matt's father Gerald Wesaw, born 1931, was the son of Thomas Wesaw, born 1890. Thomas Wesaw's father was Thomas Shabo Wesaw, born 1847, probably the same Thomas Wesaw also recorded as born in 1840-42. His father was Wezo Motay Wesaw, born 1825, son of Louis Wesaw, born 1814. Louis was the son of Chief Motay Wesaw, born between 1775 and 1790.
Chief Wesaw had two cabins north of the Eel River, according to Investigation of Historic Potawatomi Villages in Northern Indiana by William B. Secunda and Mark R. Schurr, Notre Dame, 2002. One cabin was built for him under the terms of the 1828 Treaty, another in 1832. Chief Wesaw was on both the 1837 removal and the 1838 Trail of Death. He was also known as Louison and Motay.
Chief Motay Wesaw died Sept. 1836. One source says he was killed while trying to break up a fight between two young men at their camp in Vilonia in Cass County, Michigan. A few other sources report that he was killed by one of his sons who had been drinking and was upset over the treaty that was signed in 1832 giving up their homeland. Chief Wesaw was buried sitting upright on the Moccasin Bluffs overlooking the St. Joseph River at Buchanan. He married Sinegogua Topenebee and they had several children: Louis Wesaw, born 1814, Michael Wesaw 1820, Samuel Wesaw 1824, Motay Wezo 1825, John Wesaw 1820.
Louis Wesaw is the right age to have been on the Trail of Death and could have also had the name Louison. Although Chief Leopold Pokagon got Michigan to sign a treaty allowing them to stay, some Pokagon band families were removed and then came back.
The children of Louis Wesaw and Anastasia Anwaukaw were Thomas, born between 1840-42, Joseph 1844-46, Victory Motay 1848, Peter 1853, Isaac Motay 1860, Thomas Wisseau 1871, and Josephine Wezo 1872. Their surnames were spelled differently because they were written phonetically.
Chief Wesaw's name appeared on five treaties 1832-1837. In the Oct. 27, 1832, treaty (you can Google it) states that a half section of land was reserved for Wesaw. Then it mentions other land and other spellings. Louison, an alternate name for Chief Wesaw, was a signer of this treaty.
Two books of George Winter's paintings, published by Indiana Historical Society in 1948 and 1993, mention Wesaw and Louison several times but do not have a portrait of him. In the 1948 book Winter wrote that Wesaw led the dance, but first had to be paid a dollar; he was very active in the "dog trot." Winter sketched the treaty council at Lake Kee-wau-nay in 1837 and Wesaw was there but the drawing of him is very small. The 1993 book quotes Winter as saying Wesaw was an old man. This indicates there was more than one Chief Wesaw.
The old Chief Wesaw lived in Berrien County in his village on St. Joseph River two miles upstream from Niles. The treaties gave different spellings of his name: Weesaw, Wesaw, We-is-saw, and Wesau. There is a Wesaw Township in Berrien County which is named for him.
The Sept. 23, 1836, treaty (signed on Tippecanoe River in Fulton County) reserved four sections of land for Wesaw's band but the signer of the treaty is spelled We-wis-sah. The white scribe wrote down what he thought the Indian said his name was and so it is spelled differently in different treaties but this is spelled differently in the same treaty.
Apparently Chief Wesaw came to Menominee's village and got caught up in the 1838 Trail of Death removal.
Indian Names in Michigan by Virgil J. Vogel states on p. 60 that Wesaw means "he - the torchbearer" in Potawatomi according to J. N. B. Hewitt.
Chief Nas-wau-kee had a maternal niece named Togah or Dogah (spelled Doga by George Winter), who received rights to a reservation in the October 27, 1832, treaty. (The treaty was held at the Tippecanoe River north of Rochester, Indiana.) Article III of the 1832 treaty says "To To-gah, a Potawatomi woman, one quarter section." It is reported that Togah was cheated out of her reserve, and the government sold her land to white people when the land patent was pending. Her maternal nephew was Thomas Wezoo aka Wesaw. He sought to right this grievous wrong but was never able to do so in his lifetime.
The Mackety family descends from Nas-wau-kee and Dogah through Thomas Wezoo (Wesaw). His Civil War record states he was born Thomas Wesaw. His name likely migrated to "Wezoo" from his association with Wezo Motay Wesaw, an ancestor. Thomas Wezoo is the father of Elizabeth Wezoo, who married Albert Mackety. Albert Mackety was the early 1900s leader of the Nottawaseppi Huron Potawatomi band located at Athens, Michigan. Michale Edwards, Moore, Oklahoma was in 2011 the honored Potawatomi, descended from Macketys. The village of Notta-wa-si-pa is mentioned in the Oct. 27, 1832, treaty.
Wesaw or Louison went to D. C. Feb. 11, 1837, to confer with President Van Buren. He was among a group of Potawatomi "great chiefs" who signed a treaty affirming the treaties of 1836 that sold their land in Indiana and required them to move west in two years. The government called them "great chiefs" in order to justify this treaty that contradicted Chief Menominee's desire to stay in Indiana.
The 1838 Trail of Death muster roll has Wesaw with 13 in his family. A letter from Ira A. Fisk to John Tipton dated Sept. 29, 1838, in camp near Battle Ground, stated: "There is some of the Indians very sick. Topenebee is very sick & Wesaw's wife & some children." Fisk had been left in charge of several sick Potawatomi at Twin Lakes or another place on the route. The diary records leaving sick Indians at Twin Lakes and Chippeway. Some caught up at Logansport. At the end of the journey at Osawatomie, Kansas, there were several small groups that caught up, reporting deaths along the way. But there is no further mention of Wesaw.
Wesaw's name is not on the re-muster roll at the Osage River, Kansas, in 1838. The muster roll reports 859 Potawatomi at the beginning but only 756 were recorded when they got to Kansas. There were 42 deaths so that means that about 60 escaped along the way.
George Godfrey, Citizen Potawatomi Nation, has written a new book. Road to Uncertainty - Trials of Potawatomi Removals, a historic novel which is based on the 1837 and 1838 removals. He found the John Durit diary of 1837 removal. Chief Wesaw was on the 1837 removal. Apparently he came back to Indiana, went west again on the 1838 removal and then came back to Michigan. In 1837 the Potawatomi left Niles, Michigan, went through northwest Indiana, across Illinois, crossing the Mississippi River at Quincy and into Missouri, then went to Iowa and were relocated to a reservation near Council Bluffs. Several chiefs, including Topenebee and Wesaw signed a letter to President Van Buren complaining about the emigrating agent, Col. Lewis Sands. Sands frequently got drunk and would not stop to let them look for a lost child. "Our feelings wounded by harsh language- Our people left along the road, Our horses driven until they died! No regard paid to our comfort and driven like dogs."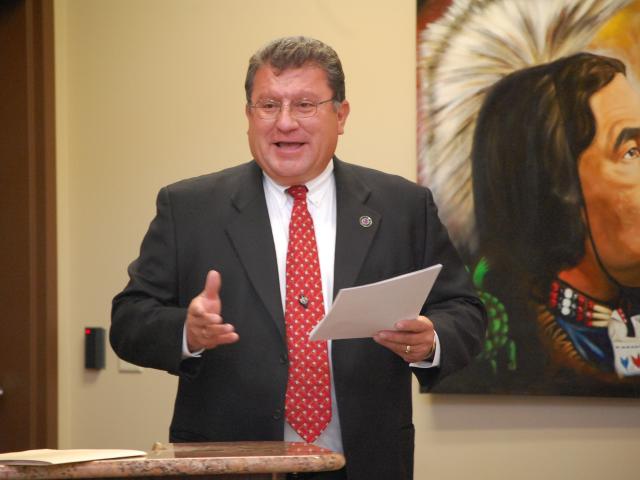 Matt Wesaw - Pokagon tribal chairman 2009-2013