Lafayette County, Missouri
Lexington
Follow 13 south as it shifts to the left (east) to go over the new Missouri River bridge, then exit at the first exit after the river, turning right (west) onto 224. Drive into Lexington on 224, then turn left (southeast) on Commerce street. The Trail of Death marker is beside the big Madonna of the Trail statue erected by DAR (Daughters of the American Revolution). This statue is one of a series of 12 statues across the US depicting the pioneer mother and her young children. It is on the corner of Commerce Street and Cliff Drive. Highland Street is across Commerce Street toward the west. The Trail of Death marker is a white boulder with metal plaque just northwest (left) of the Madonna statue.
Friday 26th Octr. [Traveled from Richmond to north side of Missouri River opposite Lexington, Missouri.]
At 8 o'clock we left our encampment and at 10 reached the Missouri River, opposite Lexington. We immediately commenced ferrying, and shall perhaps be able to get the wagons all over before night. We found the ferry engaged in transporting females who were flying from their homes. Great excitement prevails. Reports are rife throughout the country of bloodshed, house-burning, etc. The people seem completely crazed. By sunset all the wagons save a few were on the opposite bank of the river. Early in the morning we shall proceed to cross the Indians.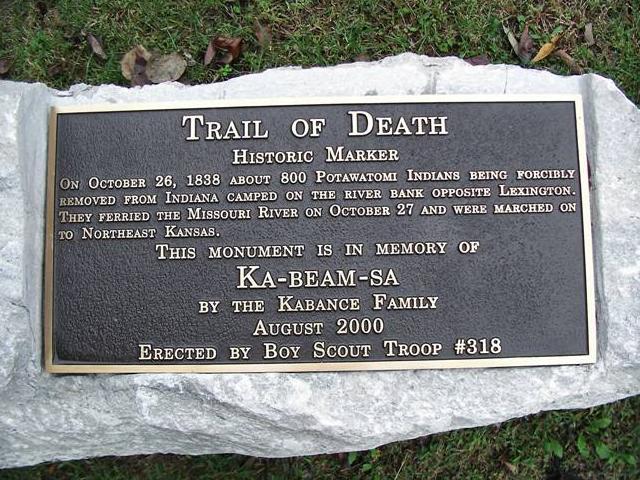 Lexington, Missouri. GPS 39.18660 -93.88633.
Located beside the Madonna of the Trail statue on a hill by Missouri River on highway 13 at north edge Lexington. Erected in 2000 by Boy Scout Troop 318, sponsored by Galen Kabance, Pittsburg, Kansas, descendant of Ka-beam-sa, a Potawatomi chief. (Photo by Bill Willard, 2004)
Saturday, 27th Octr. [Crossed Missouri River at Lexington and traveled 8 miles to Little Schuy Creek (now called Sni-a-bar Creek), Wellington, Missouri.]
At sunrise the ferry boasts were busily plying from shore to shore. As fast as the Emigrants reached the southern bank they were hurried on their journey. At 2 o'clock the party were all over the river and hastened to join the front of the emigration. At 4 o'clock the front of the party reached our encampment at Little Schuy creek, 8 miles from last night's camp.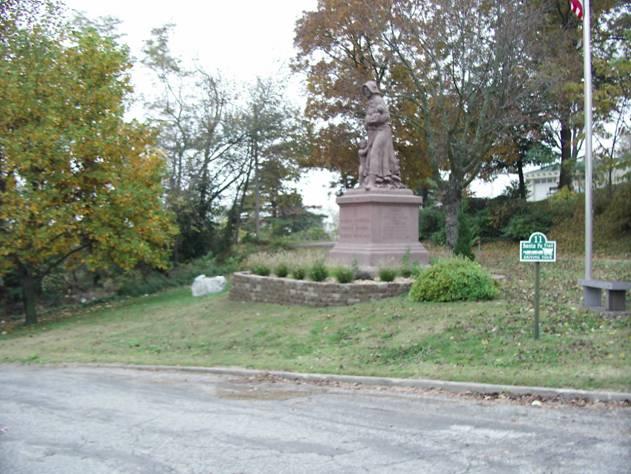 Lexington, Missouri. GPS 39.18660 -93.88633.
The Madonna of the Trail is one of 12 identical statues erected by the National Society of Daughters of the American Revolution. The statue depicts a pioneer mother with her two small children. The Trail of Death marker is the white stone on the left. (Photo by Bill Willard, 2004)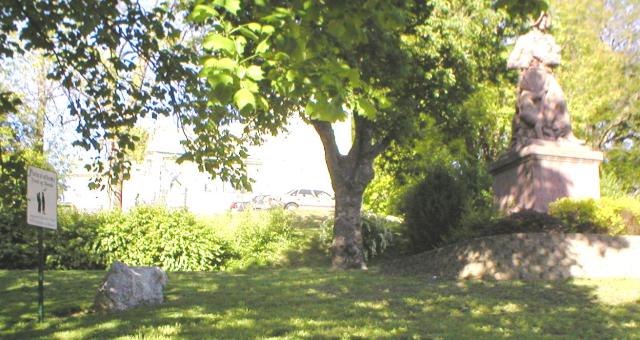 This new Potawatomi Trail of Death Regional Historic Trail highway sign was erected beside the historical marker and Madonna of the Trail statue. It was sponsored by the Prairie Band Potawatomi, Mayetta, Kansas. (Photo by Dan Cambridge, Lexington Tourism Director, April 2012).

Leave Lexington by following 224 to Wellington.