Jackson County, Missouri
Lake City
Tuesday 30th Octr. [Traveled 14 miles from Prairie Creek near Lake City to Blue River, near Buckner, Missouri.]
We marched from Prairie Creek this morning at a little before 8 and at 1 p.m. reached our present encampment at Blue River, 14 miles from this morning's camp. The journey was unusually pleasant - the day warm and the emigrants in the company of their friends, who came up yesterday evening, very gay and cheerful. Some time after our encampment Capt. Hull reported himself to the conductor and the number and condition of the emigrants under his charge. They number in all 23, having 5 horses and 3 transporting wagons in company. They will be attached to the emigration under the charge of Judge Polke tomorrow.
After leaving Buckner, Missouri, on U.S. 24, go west about 6 miles and turn south (left) on Twyman Road (also called 7). Follow 7 south 2 miles and turn west (right) on highway M 78. Go about 6 miles and turn into the Little Blue River Nature Reserve, also known as Lake City Bicycle Park, part of Burr Oak Woods State Forest. The entry is on the north side of the highway. Park in the parking lot and walk on the hiking-biking trail over the wooden bridge and along the path west. The Trail of Death marker is on the east (left) side of the path.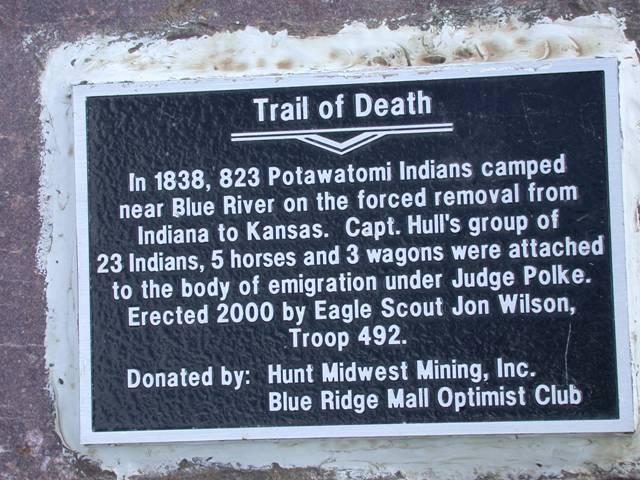 Lake City, Missouri - Little Blue River Nature Reserve, Lake City Bicycle Park N-3906156 W-9417912.
Located in Bicycle Park one mile west of Lake City on highway M 78 and Little Blue River. Erected in 2000 by Boy Scout Jon Paul Wilson for Eagle award. (Photo by Larry Prichard, Lynn, Indiana, on Trail of Death Commemorative Caravan, 2003.)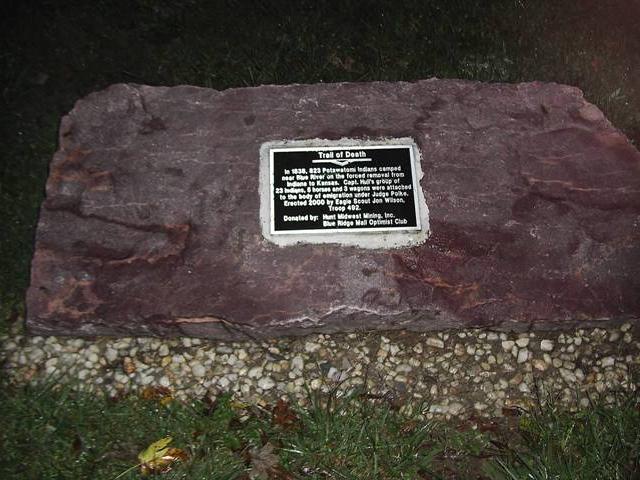 Lake City, Missouri - Little Blue River Bicycle Park N-3906156 W-9417912.
Photo showing the boulder and metal plaque in Bicycle Park after dark. (Photo by Bill Willard, 2004)
Get back on M 78 and head west toward Independence.