Jackson County, Missouri
Grandview
Thursday 1st Nov. [Traveled 16 miles from Independence to Blue River (believed to be in or near Grandview, Missouri.]
Left camp Independence at a little after 9 - one hour or so having been allowed the Indians for their religious exercises. At 3 o'clock we reached our present encampment on Blue River, 16 miles. The journey was exceedingly pleasant - the weather being warm and the road very good. (This good road is believed to be the Santa Fe Trail, which is marked with signs at Grandview.) Subsistence and forage of a good and healthy character, and to be had in abundance. Tomorrow we shall cross the state line, and thereafter experience some difficulty in provisioning - the county being almost an entire wilderness.
Leave Independence by going south on Noland Road about 2 miles. Turn west (right) 35th Street and go about 3 miles. Turn south (left) on Blue Ridge Court-Off and pass under I-70. Continue south on Blue Ridge Cut-Off for 8 miles - it becomes Blue Ridge Boulevard somewhere along the way. Pass under I-470 and continue on for about one more mile and turn west (right) Red Bridge Road. Go 3 miles on Red Bridge Road and at the edge of Grandview, turn south (left) into Minor Park. The Trail of Death marker is on the west (right) side of the drive, near a pavilion.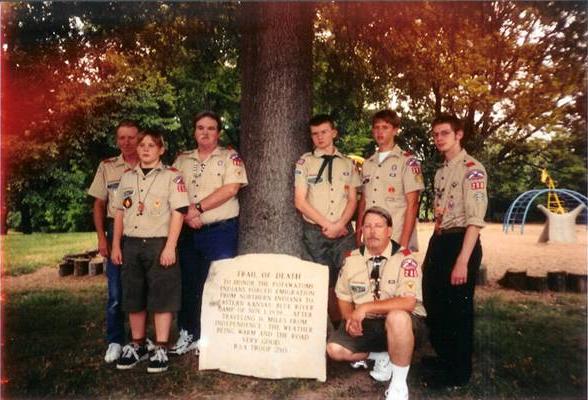 Grandview, Missouri - GPS N-3855447 W-9434176.
Pictured are Boy Scout Troop 280 and Scout leaders at the dedication August 26, 2000. Charles Hasenyager, on left side of the tree, paid for the marker. The marker had not been set in the ground yet so is just leaning against the tree in Minor Park, Grandview, Missouri.
Pictured above from left: Joe York - Scout committee member, Nathan York, Charles Hasenyager - Scout committee chairman, Sean Ryan, Doug Barquist, Mitch Robinson, and kneeling in front Steve Barquist - Scoutmaster. (Photo by Shirley Willard, 2000.)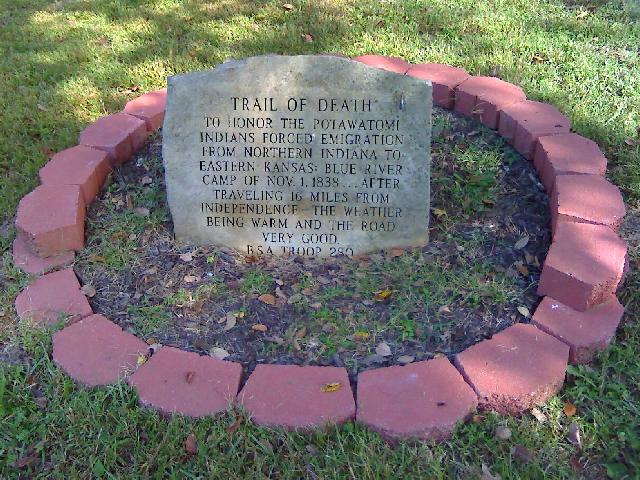 The Grandview Trail of Death marker was erected in 2007 by Boy Scouts Ben and Jake Fichman and former Scout Master Charles Hasenyager. (Photo by Charles Hasenyager, 2008.)
Starting from E Red Bridge Rd.:
Head west on E Red Bridge Rd. toward E 110th St.
Turn left (south) onto Holmes Rd.
Turn right (west) to merge onto MO-150 W
Turn left (southwest) onto Wyandotte St.
Continue (west) onto W 143rd St.
Entering Kansas - Johnson County: