Carrollton County, Missouri
Carrollton
At the edge of Carrollton, turn north (right) on US65 and go to first stoplight Chillicothe Road, and turn west (left). Turn south (left) almost immediately unto Mason Street and enter the Carroll County Museum circle drive. The Trail of Death marker is in front of the museum.
Wednesday 24th Octr. [Traveled 12 miles from DeWitt to Carrollton, Missouri.]
This morning before leaving camp, a quantity of shoes were distributed among the indigent and barefooted Indians, the weather being too severe for marching without a covering to the feet. At 8 o'clock we left Thomas's encampment and at 12 reached Carrollton, near which place are now encamped. Distance 12 miles. Nothing occurred on the way. The cold was intense on the prairie. The country through which we passed today is very much excited. Nothing is heard - nothing is talked of but the Mormons and the difficulties between them and the citizens of Upper Missouri. Carrollton is nightly guarded by its citizens.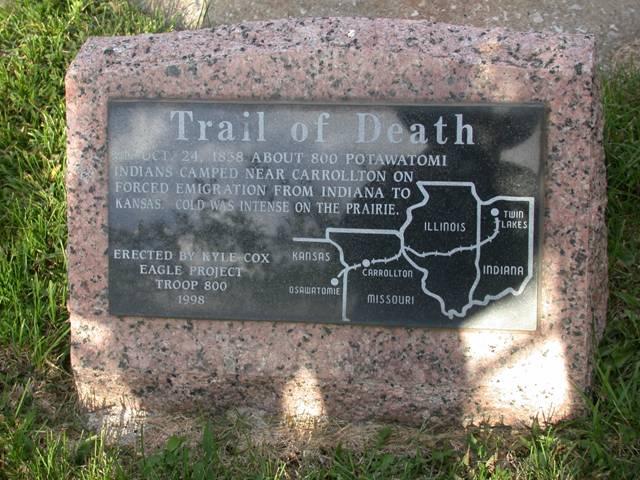 Carrollton, Missouri - county museum N-3921904 W-9329138.
Located in front of Carroll County Museum. Erected in 1998 by Boy Scout Kyle Cox for Eagle award. (Photo by Larry Prichard, Lynn, Indiana, on Trail of Death Commemorative Caravan, 2003.)
Leave Carrollton by going back to US65, turn south (right) on 65, and catch 24 going southwest. Turn west on Old 24 and then on 10. Follow 10 west, passing through Norborne. Continue on 10 when it goes south and then west again and go by Hardin, Missouri. Keep going to Richmond.