Jackson County, Missouri
Buckner, Missouri
Entering Jackson County from the east go about 5 miles and turn north on Holly Road and then within a half mile turn west (left) on Lexington Road. Cross railroad track. Turn north (right) on O'Donnell Road, entering Fire Prairie Creek Wetlands. The metal gate is locked at night. The sign states summer hours May - September 8 a.m. to 8 p.m. Winter hours October - April 8 a.m. to 4 p.m. follow the gravel drive back to the pond. It is too narrow for big rigs but a car can go through. There is a pavilion and wooden pier out into the pond so that visitors can look at the birds and plants. The Trail of Death marker is near the pavilion.
Monday 29th Octr. [Traveled 10 miles from Wellington to Prairie Creek near Lake City, Missouri.]
At 8 o'clock we resumed our journey - the morning being delightful and fine for traveling. At 12 we reached Prairie Creek 10 miles from Schuy Creek. Subsistence: flour, corn-meal, beef, pork and game of every kind. Forage: corn, hay and fodder. About 5 o'clock Capt. Hull arrived in camp with 23 Indians, who had been left at Logansport & Tippecanoe (meaning Tippecanoe River north of Rochester, Indiana). They are in tolerably good health and spirits and will perhaps accomplish the remainder of the journey in the company of our party.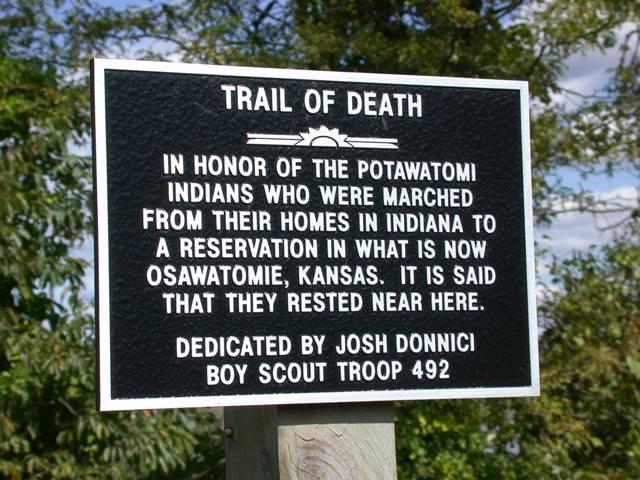 Buckner, Missouri - Fire Prairie Creek Wetlands N-3908483 W-9410541.
Located in Fire Prairie Creek Wetland Park east of Buckner off MO24, Old Lexington Road and O'Donell Road. Erected by Boy Scout Josh Donnici for Eagle award in 2000. (Photo by Larry Prichard, Lynn, Indiana, on Trail of Death Commemorative Caravan, 2003.)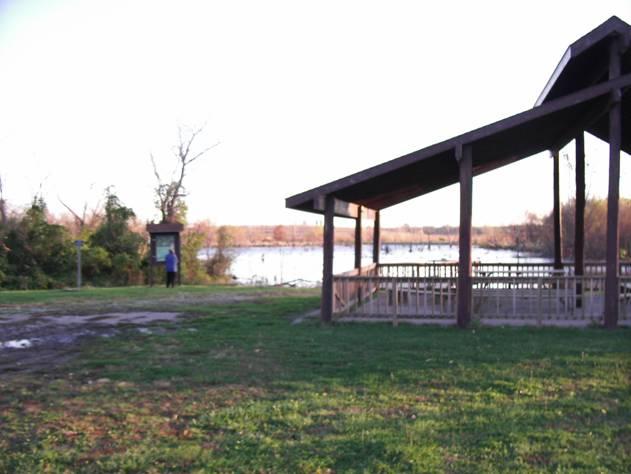 Buckner, Missouri - Fire Prairie Creek Wetlands N-3908483 W-9410541.
The quiet little park has a wooden pier to walk out over the water and see the geese and ducks and other waterfowl. Also a picnic pavilion at right. (Photo by Bill Willard, 2004)
Go back to Lexington Road and turn west (right). As this road enters Buckner, it becomes Monroe Street, which becomes US24 again as it leaves town.