Keith Drury's Trail of Death Walk

Re-tracing the journey of the Potawatomi removal: May - June 2006

Email if you're interested in the forthcoming book.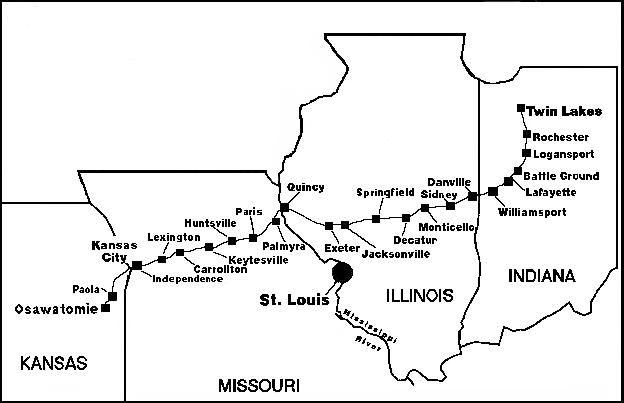 In 1838 Americans were moving west and wanted the fertile land of Northern Indiana. The problem: the Potawatomi Indians were in the way and owned the land by treaty. Through a series of deals and decisions the State of Indiana initiated the "removal" of nearly a thousand Potawatomi 660 miles to Kansas. It is called the "Trail of Death" because almost daily as they crossed Indiana and Illinois, children and old folk died.
The famous chief Menominee, who had refused to cave in and give up his land to the state, was known as the "Potawatomi preacher," insisting on twice daily Christian worship and total abstinence from alcohol. A young Catholic Priest, Father Petit accompanied the tribe on the journey and kept a careful diary as did the commander of the troops.
Keith Drury, religion professor at Indiana Wesleyan University, Marion, Indiana, is walking this 660 mile route as he writes the book, "Meditations for Christians along the Trail of Death." The book will integrate two areas-the history of the event and religion, reflecting on events in 1838 from a religious (particularly Christian) perspective. The walk began May 1, 2006 and for the year before this walk Keith Drury has been researching the history of the journey.
More resources will appear on this site once he takes the walk and the book as well will be available here. Until then his email address is and you might also get captivated by this story by reading some of the resources available on the web.
The above is from Keith Drury's web site at www.trailofdeath.org. We enjoyed reading his blog for the past month and a half. It was exciting to read of his travels and aching feet.
The Internet is marvelous - we can see the videos taken by TV stations of Keith Drury as he walked the Trail of Death. Just click on the web sites below and you can see and hear it by clicking on the little symbol for a video camera. It is amazing.
June 5, 2006 Quincy, Ill: www.wgem.com/News/index.php?ID=2476
June 13, 2006 at Paris MO: www.ktvo.com/global/story.asp?s=4982330
June 16 Kansas City, MO: www.thekansascitychannel.com/news/9381109/detail.html
Keith got as far as the Missouri - Kansas state line and then had to fly (he had purchased the tickets previous to his walk) to Washington state for a vacation with his wife Sharon. He will return to finish the walk next weekend and then rent a car to go to the St. Philippine Duchesne Memorial Park at Sugar Creek and on to St Marys to see Sister Virginia Pearl. He hopes to see Peggy Kinder too. Otherwise, he has decided to conclude his walk quietly and almost secretly, kind of like a vision quest, I guess. He will fly back to Indiana on June 28. Then he will work on his book.
Thanks to all of you who sent him mail and email and helped him along the way by talking to him, giving him food and drink and in other ways. A special thanks to the museums and libraries along the way who allowed him to use their computer so he could write his blog at www.trailofdeath.org.
If anyone thought he was doing this for fun, they were wrong. 660 miles is a long walk. He wore out 3 or 4 pairs of shoes and got blisters the size of silver dollars. But he thought and prayed about the Potawatomi and their 1838 trek and I am sure he will have a lot to share with us when he writes his book. He emailed me a lot and I emailed him directions to find each campsite and comments. I could not get his blog to accept my comments - it seems that computers always fight me! So I just gave up and emailed him. He has come up with some new things I never thought about. I think he is a sincere person who truly wants to experience some of the pain and feelings that the Potawatomi felt on their long walk. And he sure did. I can hardly wait to read his book.
You can read Keith's blog for the entire 660 mile walk at his web site www.trailofdeath.org.
Shirley Willard