Linn County, Kansas
Sugar Creek Mission - history
George Winter, the frontier artist, attended the treaty council in July 1837, held at Lake Kee-wau-nay (now Lake Bruce) on the border of Fulton and Pulaski counties, Indiana. He sketched the Potawatomi and later made oil portraits, published in books by the Indiana Historical Society in 1948 and 1993. Most of these paintings and journals are now in the Tippecanoe County Museum, Lafayette, Indiana.
In the fall of 1837 a group of Potawatomi, including chiefs Kee-wau-nay and Nas-waw-kay, were conducted by George H. Proffit from Fulton and Cass counties in Indiana to Kansas. Dr. Jerolaman of Logansport, Indiana, accompanied them, as he did also on the removal of 1838. There were no deaths recorded.
As soon as the Potawatomi arrived in Kansas, they called for a priest. Father Christian Hoecken came and founded St. Mary's Mission at Sugar Creek, Kansas.
Within a year the Ewing Brothers of Logansport, Indiana, had set up a trading post at Sugar Creek, Kansas. So the idea of removing the Indians from the "evil influence of white men" did no good. The liquor trade continued. However, St. Philippine Duchesne recorded in her journal that the Christian Potawatomi did not drink.
When the Mission Band of Potawatomi arrived at Osawatomie, Kansas, on November 4, 1838, winter was coming on and there were no houses, despite the government promise. The newly-arrived Potawatomi heard about the Sugar Creek Mission about 20 miles south and moved there. Though they still had no houses, they found shelter along the steep rocky walls of the creek bank, where they could hang blankets and keep warm with camp fires. Thus they spent that first winter in Kansas. Father Hoecken recorded that by March, all of the Potawatomi had moved down to his mission.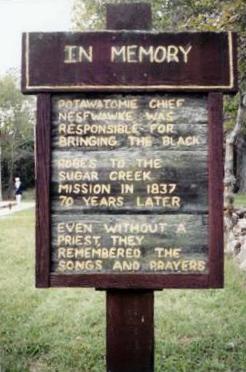 St. Philippine Duchesne Memorial Park - In Memory of Potawatomi Chief Nesfwawke wooden sign. Also spelled Nas-waw-kay. GPS N-3814071 W-9456594. Erected 1988 by committee to build St. Philippine Duchesne Memorial Park. (Photo by Dolores Grizzell, Winamac, Indiana, member of Trail of Death Commemorative Caravan, 1998.)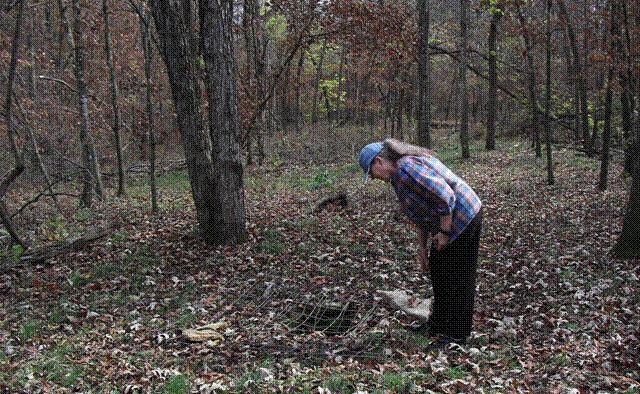 St. Philippine Duchesne Memorial Park - Indian well GPS N-3813998 W-9456720.
Signs indicate the way to walk down into the steep ravine of Sugar Creek where the Potawatomi from Indiana lived that first winter after arriving November 4, 1838. They dug a well which is now covered with a screen. Shirley Willard looks down into the well while visiting the St. Philippine Duchesne Memorial Park in the fall of 2004. (Photo by Bill Willard, Rochester, Indiana, 2004.)