Kansas
We don't know exactly but when we first began research in 1988, we believed that the Potawatomi traveled south on what is now State Line Road, which is on the Missouri side of the Missouri - Kansas state line. This is coming south from Grandview, Missouri. Turn west (right) at 215th Street. The marker is on the northwest corner of 215th Street and State Line Road, a rural location, which is a corner of a farm.
Johnson County, Kansas
Friday 2nd Novr. [Traveled 12 miles, crossed state line near Stillwell, Kansas.]
The morning broke upon us rainy and disagreeable. The Conductor being anxious, however, to complete the journey now so near at an end, gave the word for a move, and at 8 o'clock we were on the road - the rain increasing as we advanced. At 9 we crossed the boundary line and found ourselves in the heart of a prairie, with scarcely any traces to mark our route. The journey was continued and at 12 a large portion of the emigrants on horseback became detached from the wagons, and wandered over the prairie four hours in search of the trace of the wagons. It was found at length, and we reached the camp ground set-out for at 3 o'clock, having traveled a distance (it was computed) of 25 miles, although we are now but 12 miles from the encampment of yesterday. Our encampment is known as the North fork of Blue River. Subsistence beef and corn. Forge corn.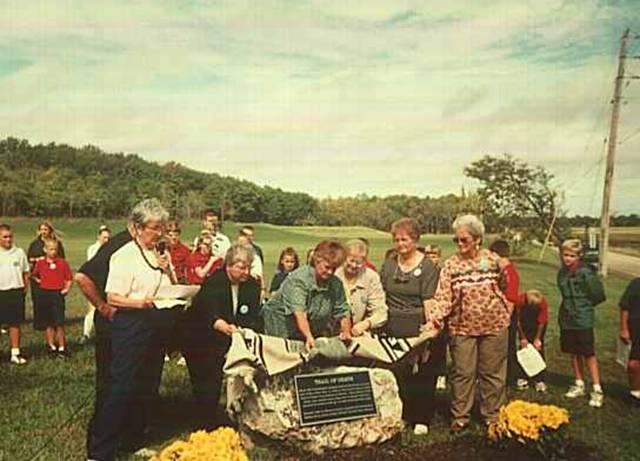 Stillwell, Kansas - country road, northwest corner of 215th Street and State Line Road. GPS N-3844291 W- 9436553.
Boulder with metal plaque on State Line Road and W. 215th Street. Erected 1998 by Navarre family, Confirmation Class of Paola's Holy Trinity Church, and Johnson County Historical Society.
Pictured above: six Navarre descendants unveil the new Trail of Death marker. From left: Mary Burns Carr with microphone, Julie Burns Kennedy, Janet Heslop, Nancy Martin Barnaby, Theresa Burns McNary, and Catherine Martin DeVader (Photo by Bill Willard, 1998)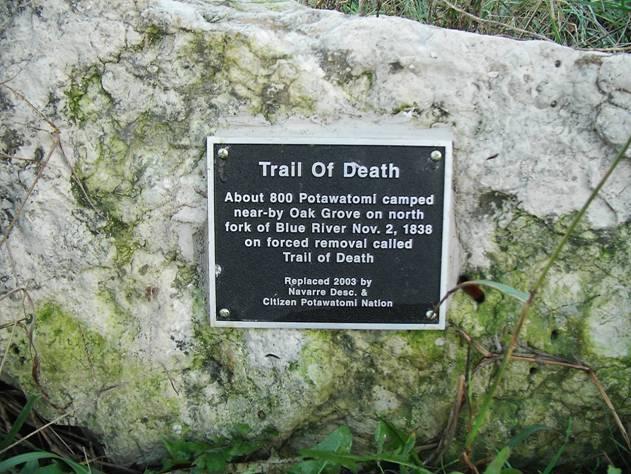 Stillwell, Kansas - country road, northwest corner of 215th Street and State Line Road. GPS N-3844291 W- 9436553.
The first Trail of Death marker here was stolen from the boulder a year or two after it was erected. The above plaque was made and attached to the same boulder and re-dedicated in 2003. It was sponsored by the Navarre descendants and Citizen Potawatomi Nation. (Photo by Bill Willard, 2003)
This boulder with Trail of Death plaque was moved in May 2013 because new research indicates a different route and because the landowner did not want the marker there. It is now in storage at Johnson County Park Department. We are keeping the photos and story here to honor the Navarre sisters who erected the marker. When it is erected at a new site, it will be noted here. This is no longer considered the Trail of Death route. See next entry to continue following the Trail of Death.