Heritage Park
A new Trail of Death marker was erected in 2013 and was dedicated by the Trail of Death Commemorative Caravan Sept. 28 at 10 a.m. This is a result of research done by Deb Sims, Spring Hill Middle School librarian, and William Maasen, Johnson County Park and Recreation District. The unsolved problem with the location is that in the 1838 diary, it states they camped at the North fork of the Blue River Nov 2. Then on Nov 3 it states they left their camp at Oak Grove. No one has ever found a place near there called Oak Grove in western Missouri or eastern Kansas. It might have mistakenly referred to Elm Grove. Several historians worked on this and concluded this park would be a more-nearly accurate location for the Trail of Death marker.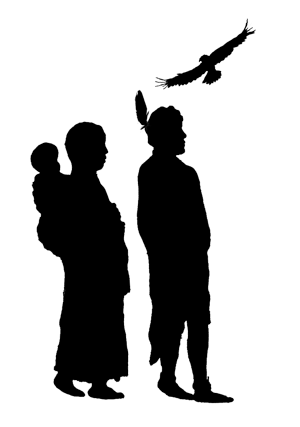 The Potawatomi Indians
Trail of Death
Indiana to Kansas
September 4, 1838 - November 4, 1838

THIS MONUMENT COMMEMORATES THE NEARBY
OAK GROVE ENCAMPMENT, NOVEMBER 2, 1838,
OF THE POTAWATOMI ON THEIR 660 MILE
FORCED REMOVAL JOURNEY FROM THEIR HOME
IN INDIANA TO LINN COUNTY, KANSAS.
OVER 40 POTAWATOMI, MOSTLY CHILDREN,
DIED DURING THE GRUELING TREK.

JOHNSON COUNTY HERITAGE TRUST FUND GRANT
Erected 2013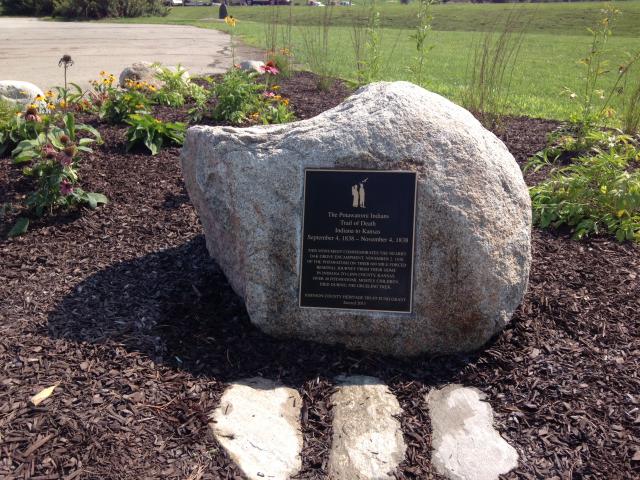 Photo by William (Bill) R. Maasen, Superintendent of Parks & Golf Courses.
Johnson County Park & Recreation District, Kansas.
New directions from Missouri state line to Heritage Park in Kansas:
Turn left (south) onto Switzer Rd.
Turn right (west) onto W 151st St.
Turn left (south) onto S Pflumm Rd.
Turn right (west) onto Access Rd.
Take the 1st right to stay on Access Rd.
Turn left into Marina parking lot of Heritage Park.
New directions from Heritage Park to Paola starting from Marina parking lot. The first four turns take you west through Heritage Park to the west park entrance:
Head northeast toward Access Rd.
Turn right onto Access Rd.
Turn right to stay on Access Rd.
Turn right to stay on Access Rd. Leave Heritage Park.
Turn left (south) onto S Lackman Rd.
Turn right (west) onto W 175th St.
Turn left (south) onto S Ridgeview Rd.
Turn right (west) onto W 207th St.
Turn left (south) onto N Webster St.
Continue onto Old Kansas City Rd.
Continue onto Webster
Turn right (west) onto W 223rd St. (to cross I-169)
Turn left (south) at the 3rd cross street (The first two "cross streets" are ramps to I-169) onto Old Kansas City Rd.
Continue onto Columbia Rd.
Continue onto Old Kansas City Rd.
At the traffic circle, continue straight (south) onto Old Kansas City Rd.
Continue (south) onto N Pearl St.
Turn left toward N Pearl St. - Jog east on Baptiste Dr.
Take the 1st right (south) onto N Pearl St. in Paola