Rochester Court House
The Fulton County court house is located on Main Street (Michigan Road or Old 31) between 8th and 9th streets. There is parking on both sides of Main Street. The Trail of Death marker is next to the sidewalk on the west side (front) of the court house, facing Main Street.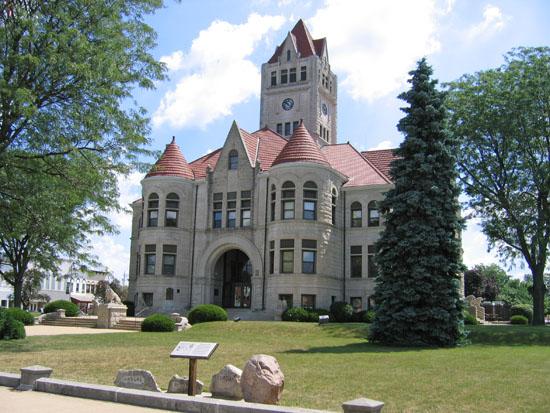 Rochester Court House - Photo by BunceMan's TranzAmerican Bike Ride 2006.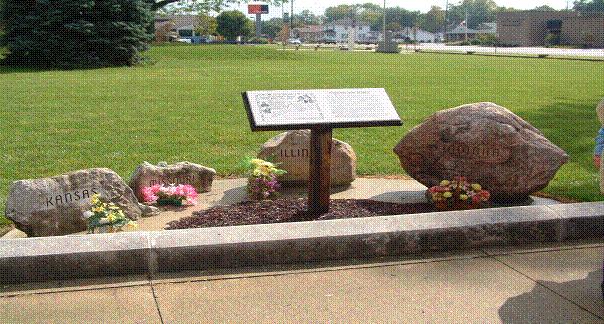 Rochester, Indiana - Trail of Death memorial at Fulton County Court House. GPS N-4103918 W-8612948 Four boulders with names of states (Indiana, Illinois, Missouri and Kansas) sandblasted on them, and two plaques on a wooden stand. A wooden post supports two plaques made of corian, a space-age plastic that withstands 700 degrees. The plaques show a map of the Trail of Death and description of the march through Rochester Sept. 5, 1838, and were designed by Tom Hamilton, Potawatomi whose ancestor Abram Burnett was on Trail of Death. The marker, erected 1995, was sponsored by descendants of Che-shaw-gen (Susan Dansenburg Campbell's family) and William O. Wamego family (descendants of Chief Wamego who was on Trail of Death), and Indian Awareness Center of Fulton County Historical Society. Che-shaw-gen was a Potawatomi head man and signed several treaties, including one at Chicago and one at the Potawatomi Mill, Rochester. He is mentioned in the Trail of Death diary Sep 7, when he and his family joined the emigration. Chief Wamego signed several treaties too, and his name was sometimes spelled Wymego. The Indiana boulder was donated by Rex Bowen, Rochester. The Illinois boulder is from Francis Griffin and his son, James Snake Redhawk Griffin, Quincy. The Missouri and Kansas rocks are from Tom Moylund, LaCygne, Kansas. All the boulders were hauled by Bill Willard. The wooden post and stand were made and donated by Dan Peters, Scrapwood Sawmill, Rochester, Indiana. (Photo by Shirley Willard 2005) During the Trail of Courage Shirley places flowers there.

To continue on the Trail of Death, go south on Main Street to the edge of town to the Y where Old 31 goes left and Indiana 25 goes right. Take Indiana 25 and go 5 miles to Mud Creek.