Lagrange on Wabash River
When leaving the Lafayette Trail of Death marker, turn left on Taft Road and then left on 300 N. When you cross highway 52, county road 300 becomes Klondike Road and goes straight south. This 300 road ends at highway 26 so turn right and go less than a mile on 26, then turn left on 325. It jogs and becomes 350 and ends at River Road. Turn right on River Road, which becomes Division Road. Turn left on 875 W and go past Ross Hill. The road jogs around and becomes 50. Turn left on 950 W and it will come along side the Wabash River. On your right (west) you will see the Trail of Death marker beside the road. Lagrange used to be a town on the Wabash River but no longer exists.
Sanford Cox and others rode out from Lafayette to see the Indians passing by Lafayette. He wrote a sad description which he published in 1860 in his book: Recollections of the Early Settlement of the Wabash Valley, reprinted in 1987 with the title of Old Settlers:
"Hearing that this large emigration which consisted of about one thousand of all ages and sexes, would pass within 8 or 9 miles west of Lafayette, a few of us procured horses and rode over to see the retiring band, as they reluctantly wended their way toward the setting sun. It was a sad and mournful spectacle to witness these children of the forest slowly retiring from the home of their childhood, that contained not only the graves of their revered ancestors, but many endearing scenes to which their memories would ever recur as sunny spots along their pathway through the wilderness. They felt that they were bidding farewell to the hills, valleys and streams of their infancy, the more exciting hunting grounds of their advanced youth, as well as the stern and bloody battle fields, where they had contended in riper manhood, on which they had received wounds, and where many of their friends and loved relatives had fallen, covered with gore and with glory. All these they were leaving behind them to be desecrated by the plowshares of the white man. As they cast mournful glances back toward these loved scenes, that were rapidly fading in the distance, tears fell from the check of the downcast warrior, old men trembled, matrons wept, the swarthy maiden's check turned pale, and sighs and half-suppressed sobs escaped from the motley groups as they passed along, some on foot, some on horseback, and others in wagons - sad as a funeral procession. I saw several of the aged warriors casting glances toward the sky, as if they were imploring aid from the spirits of their departed heroes, who were looking down upon them from the clouds, or from the great Spirit, who would ultimately redress the wrongs of the red man, whose broken bow had fallen from his hand, and whose sad heart was bleeding within him.
"Ever and anon, one of the party would start out into the brush, and break back to their old encampments on the Eel River and on the Tippecanoe - declaring that they would rather die than be banished from their country. Thus scores of discontented emigrants returned from different points on their journey, and it was several years before they would be induced to join their countrymen west of the Mississippi."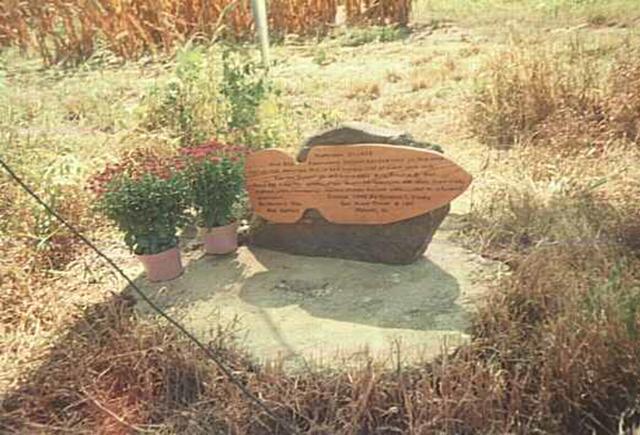 Lafayette, Indiana - Tippecanoe County Historical Museum.
This wooden plaque with the words of Sanford Cox describes the sadness of the Potawatomi as they walked by Lafayette. The marker was erected by Girl Scout Kristy Young for her Gold award in 1998. Her grandfather made the wooden plaque shaped like an arrowhead. After a mower knocked the plaque off the boulder, it was rescued and taken to the Tippecanoe County Museum, 1001 South Street, Lafayette, Indiana, for permanent exhibit there. This museum has most of the oil paintings and sketches and papers from George Winter, frontier artist, who was an eye witness to the Trail of Death and sketched it. They were donated by Evelyn Ball, whose husband Cable Ball, was the great-grandson of George Winter. (Photo by Bill Willard at dedication of the marker in rural Tippecanoe County in 1998.)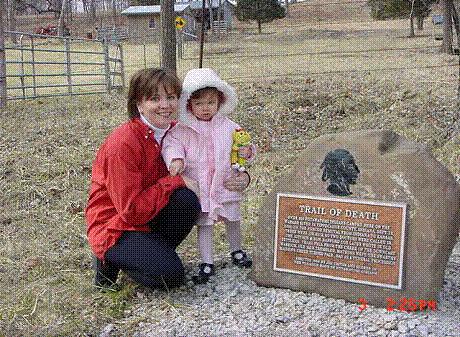 Lagrange, Indiana - former town on the Wabash River on Tippecanoe - Warren county line, rural West Lafayette. GPS N-4022374 W-8705476.
Located near Wabash River southwest of Lafayette, on north side of 950 West, two miles west of 75 S. (Do not confuse this with the town of LaGrange in northern Indiana.) Boulder with metal plaque is on land owned by Jim and Beth Crites. The picture of an Indian head from Indian head nickel was painted by Jim Crites' sister, Verna Yoder, an artist.
Pictured above: Tracy Locke and daughter, Lafayette, descendants of Abram Burnett, a full-blood Potawatomi on the Trail of Death, at the dedication March 3, 2001. Also attending the dedication were the 42nd Royal Highlanders bagpipe band, Evelyn Ball whose husband's ancestor was George Winter the artist, as well as officers and members of the Tippecanoe County and Warren County historical societies. The marker was sponsored by the Elder Council of Pokagon Band Potawatomi, Dowagiac, Michigan. Marge Moody, South Bend, Indiana, was vice chairman of the Pokagon Elder Council and spearheaded the project. Her brother, Clarence White, did the blessing. (Photo by Shirley Willard, Rochester, Indiana.)
Lagrange is right on the county line. Go south and follow the Wabash River into Warren County and on to Independence, Indiana.