Lafayette, Indiana
Go back toward the main part of Battle Ground and turn west on Prophets Rock Road. You will pass an old log cabin on your right - this was Burnett's Trading Post and is the oldest house in Indiana. Prophets Rock Road will take you under I-65 and then to 43. Turn left on 43 and go to 500 N - turn right. Go on 500 N about 2 ½ miles and you will see the Trail of Death marker on your right in an open area with trees behind it, located between Morehouse Road and 225 West just west of the Mt. Zion Church. This is just before you get to Taft Road. You are now in Lafayette.
Thursday 13th Sept. [Traveled 18 miles from Battle Ground to Lagrange on Wabash River at Tippecanoe - Warren county line, southwest of Lafayette, Indiana.]
We commenced journey about 9 o'clock and after traveling until 4 this afternoon, reached the encampment near Lagrange. (Note: this village on the Wabash River no longer exists). With the exception of the sultry heat of noon-day and the excessive dust of the roads, our marches are very pleasant. This evening 2 neighboring physicians, Drs. Ritchie & Son, were called into camp - the situation of the sick demanding it - and have visited and prescribed for most of those indisposed. They report 106 cases of sickness. (Note: this was probably typhoid.)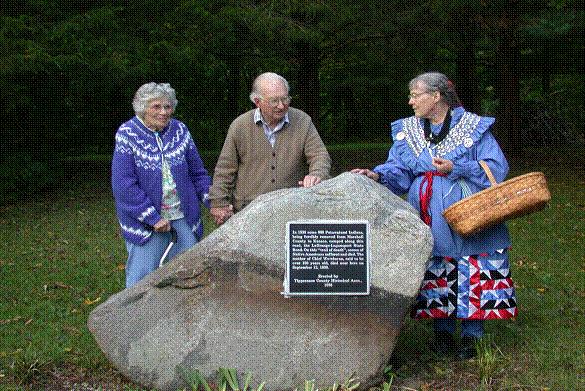 Lafayette, Indiana - GPS N-4029406 W-8657192.
Trail of Death marker erected by Tippecanoe County Historical Association in 1988. Located on County Road 500 North between Morehouse Road and 225 West just west of the Mt. Zion Church. Pictured above are Mr. and Mrs. Alan Morehouse with Shirley Willard on Trail of death caravan, 2003. (Photo by Larry Prichard, Lynn, Indiana.)