Warren County, Indiana

Independence
Follow the Wabash River past the Black Rock (road 350) and then turn south on 1100. This road jogs to the west and then the south but is called Independence Road. It takes you to Independence, Indiana. Just before you enter Independence, you will see Cicott's Park on your left. The Trail of Death marker is a huge boulder with letters sandblasted into it. Zachariah Cicott had a trading post here in 1830s and saw the Potawatomi go past his front porch on the Trail of Death.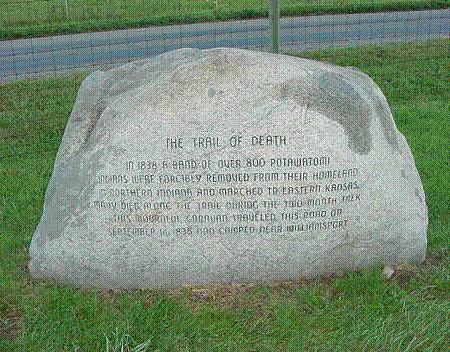 Independence, Indiana - Cicott's Trading Post Park. GPS N-4020290 W-8709884.
This huge boulder with words sandblasted in it tells about the Trail of Death traveling on this road through Independence. It is located east of town at the site of the Cicott's trading post, which is now a county park. Zachariah Cicott founded a trading post here in 1816. He was married to a Potawatomi woman and so his children received treaty land. He sold town lots and founded the town of Independence in 1832. He is buried in the town cemetery and is remembered as a man who loved to dance and gamble, hold long and loud parties, and who had an eye for a pretty girl. He died in 1850. The townspeople imagine that Zachariah sat on his porch and watched the Potawatomi go by in 1838 on the forced emigration that became the Trail of Death. The marker was erected by John Henry and Warren County Park Board in 1993. (Photo by Bill Willard, Rochester, Indiana, on Trail of Death caravan, 2003.)