Sadorus, Illinois
Saturday 22nd Sept. [Traveled 16 miles from Sidney to Sidoris' Grove, now called Sadorus, Illinois.]
At 8 o'clock we left our encampment and entered the prairie at Sidney. The day was exceedingly cold. The night previous had brought us quite a heavy rain, and the morning came in cold and blustery. Our journey was immediately across the prairie, which at this point is entirely divested of timber for 16 miles. The emigrants suffered a good deal, but still appeared to be cheerful. The health of the camp continues to improve - not a death has occurred today, and the cool bracing weather will go far towards recruiting the health of the invalids. A wagoner was discharged for drunkenness. Dissipation is almost entirely unknown in the camp. Tonight, however, 2 Indians were found to have possessed themselves of liquor and become intoxicated. They were arrested and put under guard. Some 6 or 8 persons were left at Davis's Point this morning for want of the means of transportation. They came in this evening. Water quite scarce.
Leave Sidney by going straight west on 1000 also known as County Road 15. This takes you past Philo Unity School on a rural crossroads. Turn south (left) on 130. Go 4 miles and turn west (right) on 600, also known as County Road 17. Go 10 miles west to Sadorus. Entering Sadorus, turn north (right) on Center Street and follow it as it bends to become another street; go to the end where it meets West Street by the railroad tracks. The Trail of Death marker is at the entrance to Sadorus Community Park.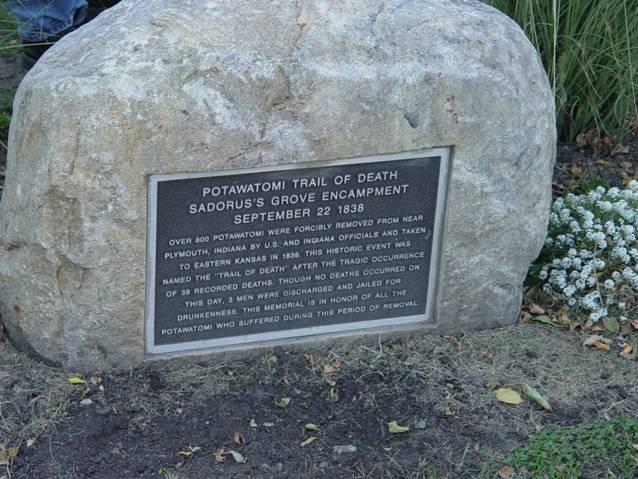 Sadorus, Illinois - Sadorus Community Park. GPS N-3958020 W-8820966.

Located in Sadorus Community Park. Erected in 1993 by Boy Scout John Housman for Eagle award. (Photo by Larry Prichard, Lynn, Indiana, on Trail of Death Commemorative Caravan, 2003.)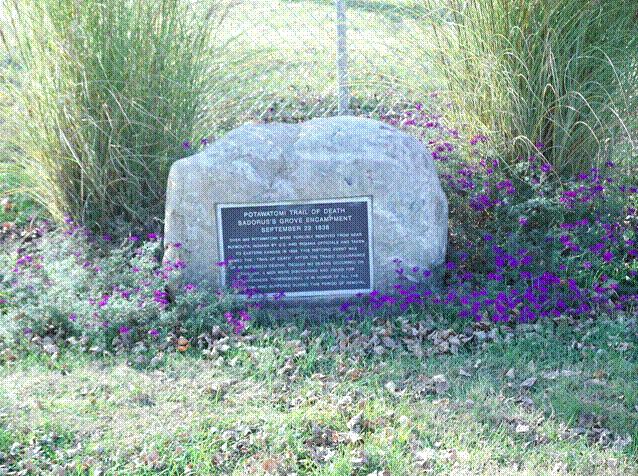 Sadorus, Illinois - Sadorus Community Park. GPS N-3958020 W-8820966.
Trail of Death marker beautified with flowers, little purple forget-me-nots. (Photo by Bill Willard 2004)
Starting at the Trail of Death marker in Sadorus, IL, turn left (north) onto N. West Street which becomes 600E crossing the railroad tracks, and go north for 1 mile. Turn left (west) onto 700N, go past Craw Cemetery on the right and cross Kaskaskia River (creek at this point), for 0.7 mile. Turn right (north) onto 525N for 0.5 mile.
Turn left (west) onto 750N, 0.2 mile. Turn right (north) onto 500 E, 1.5 miles. Turn left (west) onto 900N, which becomes 1500N as you pass Champaign-Piatt County line. Go straight into Monticello, passing Monticello Airport, to intersection of 1550N and Market Street (IL 105).