Naples, Illinois
Leave Exeter on CR 1, turn north, still on CR 1. Follow this road to Bluffs, Illinois, coming on hwy 100 which goes north through Bluffs as North Bluffs St. Leave Bluffs on hwy 100. Turn west (left) on CR 3 and go west till you come to Naples. Turn south (left) on Clark St. and go 4 blocks, turn west (right) on Shelly St. The town park is on the north (right) side of the street. The Trail of Death marker is near the pavilion.
Wednesday 3rd Octr. [Traveled 9 miles from Exeter to Naples, Illinois.]
Left Exeter encampment at a little before 8 o'clock, and without any occurrence of note reached the Illinois River at about 11. Preparations were made for ferrying the river, and we embarked in keel and flat boats directly after our arrival. The day was spent in crossing and re-crossing the stream, and by 9 p.m. we succeeded in landing the last of the baggage wagons. We are now encamped on the opposite shore from Naples, where we shall perhaps remain tomorrow to recruit the fatigues of the last few days. A child died directly after our arrival at the river. (They spent 9 hours fording Illinois River. It is believed that Phillips' Ferry from Valley City, a few miles south of Naples, was hired to come do the ferrying.)
Thursday 4th Oct. Although the ferriage of the river was completed last night before we slept, it was thought advisable by the Conductor to remain in camp today. The Indians made use of the opportunity thus afforded, to furnish themselves with moccasins, wash their blankets and clothes, and do many other thing necessary to their comfort and cleanliness during the remainder of the journey. The health of the Indians is now almost as good as before we commenced our march from Twin Lakes - a few days more will entirely recruit them. A young child died in the evening.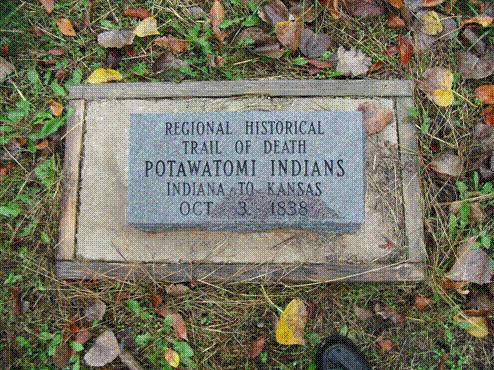 Naples, Illinois - town park. GPS N-3945375 W-9036427.
Located in town park. Erected in 1998 by The Knights Trader (newspaper) and Stuart Daws Funeral Home. (Photo by Bill Willard, 2004)
Go west on Shelly Street and up over the levee to the Illinois River. You can park and walk along the river.
This is where the Potawatomi were ferried across the river. But there is no bridge so you cannot cross the river here. You must go north and cross the Illinois River at Meredosia.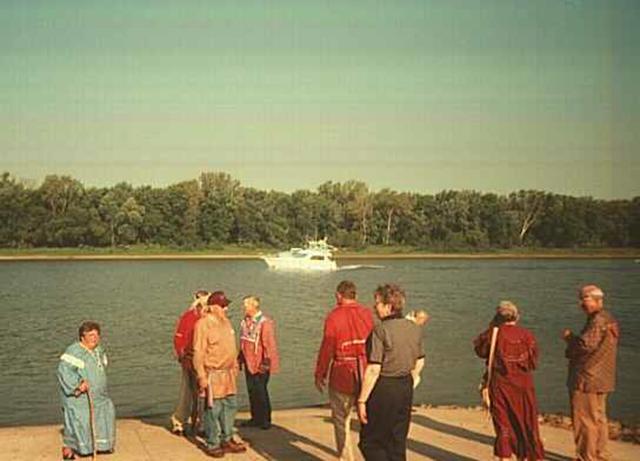 Naples, Illinois - town park. GPS N-3945375 W-9036427.
This landing at the levee is where the Potawatomi were placed on ferry boats to cross the river. The Trail of Death Commemorative Caravan members look it over in 1998. Pictured above: Susan Campbell, George Godfrey in red shirt talking to Bill Willard, Jim Pearl with ball cap, George Wesselhoft, Eileen Pearl, Sister Virginia Pearl, and Bob Pearl. (Photo by Shirley Willard, 1998)
Leave Naples by going north on Clinton Street, which goes only a couple of blocks and angles east into CR 1 again. Turn north (left) on 350 E, a gravel road. Follow it 2 miles and the road turns east. The next road north is Old Naples Road - turn north (left) on it. Follow the Old Naples Road as it jogs around and goes into Meredosia. At the foot of the bridge, turn west (left) unto highway 104, which crosses the Illinois River.
Faster route on blacktop roads: go back to Bluffs on CR 3 and then go (left) north on highway 100. Go about 5 miles and turn west (left) on 104, which takes you to Meredosia to cross the Illinois River.