Island Grove, Illinois
Continue west on the Old Jacksonville Road for 6 miles. The next Trail of Death marker is on the north side of the road at the private drive entering a farm with lots of big old trees. This is between Jim Town Road and Peters Road. Pull off to the side of the road by the drive or park across the road at the church and walk over.
Sunday 30th Sept. [Traveled 6 miles from Riddle Hill to Island Grove, Illinois. We left McCoy's Milles at about 9 o'clock and at 12 reached Island Grove, the place of our encampment, 6 miles distance from the camp of last night. Our march was made necessarily short on account of the scarcity of water -- this being the only watering place nearer than 10 or 15 miles. The death of a child occurred a few hours after our encampment. Health of the sick still improving. Provisions and subsistence good and healthy. Indians still bring in large quantities of game - sufficient for their subsistence - and they greatly prefer such provisions as they acquire by the chase. One of the dragoons [soldiers] was dismissed last night for intoxication - Nothing of the kind is permitted.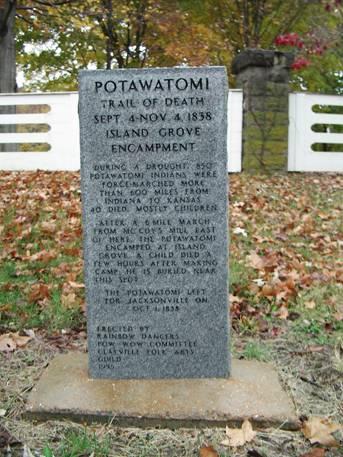 Island Grove, Illinois - Hitt farm entrance. GPS N-3945817 W-8957388.
This marker is at the entrance to the private driveway belonging to Robert Hitt. His farm has several huge trees that were standing when the Trail of Death took place in 1838. A couple of trees are over 10 feet in circumference and can barely be reached around by two men. Erected in 1996 by Rainbow Dancers Pow Wow, led by Jennifer Kansy as project director. (Photo by Bill Willard, 2004)
Continue west on the Old Jacksonville Road to Jacksonville. When you cross the county line, the Old Jacksonville Road takes on the name of Old State Road.