Fulton County, IN
Historic Highway Signs
Beginning in 2006 our new project is to erect historic highway signs similar to the Lewis & Clark Trail signs to mark the route taken in 1838 by the Potawatomi as they were forcibly marched from Indiana to Kansas.
The PTDA is working to get highway signs similar to the Lewis & Clark Trail signs. The logo by Potawatomi artist, David Thomas Anderson, Seattle, Washington, will appear on each 24x30 metal sign. Shirley Willard applied for permission for the Manitou Chapter of Daughters of American Revolution, Rochester, Indiana, to sponsor the signs needed across Fulton County, Indiana.
All 26 counties will be encouraged to work on getting highway signs, some of which may be sponsored by their local DAR and some by their county tourism or other groups. Nearly 30 Trail of Death historical markers were erected by Scouts (both Boy and Girl Scouts) in all four states, which succeeded very well. It is hoped that the DAR will help with highway signs in all four states.
The first Potawatomi Trail of Death Regional Historic Trail highway signs were erected in Fulton County, Indiana, in September, 2006.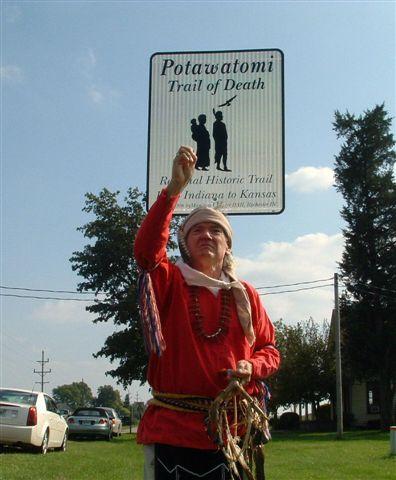 George Godfrey, member of Citizen Potawatomi Nation, blesses the new historic trail highway sign north of Rochester, Indiana, Sept. 15, 2006. Godfrey, Athens, Illinois, had an ancestor on the Trail of Death. He is president of the Potawatomi Trail of Death Assn. There are now 5 Potawatomi Trail of Death highway signs across Fulton County, Indiana - the first in the nation. The one pictured is at the Marshall - Fulton County line, on Old 31 about 7 miles north of Rochester. It is at the corner of Indiana 110 and Old 31 by the County Line Landfill. The other signs are at north edge of Rochester by the railroad tracks, south edge of Rochester by CVS Pharmacy where Indiana 25 heads south, the north edge of Fulton, and in front of Caston School at the Cass - Fulton county line. (Photo: Lyn Ward, Plymouth, Indiana)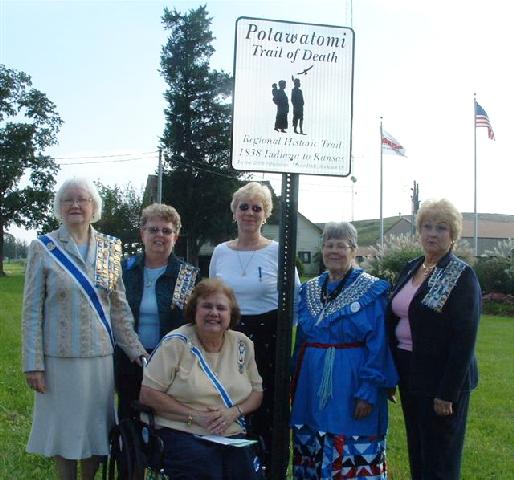 Members of the National Daughters of the American Revolution pose by the newly erected highway sign that marks the Potawatomi Trail of Death. The sign was sponsored by Manitou Chapter DAR, of which Shirley Willard is Regent. Seated in front: Cynthia Stout, Frankfort, State Regent. Standing from left: JoAn Nichols, Indianapolis, Vice President General; Sharon Baldwin, Cloverdale, State Treasurer; Martha Barnhart, Churubusco, State Vice Regent; Shirley Willard, Rochester, Manitou Chapter Regent; Nancy George, South Bend, State Chaplain. (Photo: Lyn Ward, Plymouth, Indiana.)

See the Fulton County Historical Society's web page at www.fultoncountyhistory.org for more pictures and information.