2003 Trail of Death Commemorative Caravan Schedule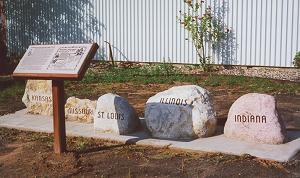 Sept. 22 Mon. - Rochester to Plymouth to Independence, IN - 136 mi.
8:00 Met at Fulton County Museum for registration, get acquainted, prayer for safe trip in front of Father Petit memorial. It was raining so we had to pray in the museum lobby.
8:30 Drove to Chief Menominee statue on Peach Road south of Plymouth.
9:00 Ceremony at Chief Menominee statue: George Schricker sang Menominee song he wrote, taught us to do the chorus in sign language.
10:00 Caravan started on Trail of Death, following original route taken in 1838, led by Bill & Shirley Willard across Indiana.
10:30 Stopped at Tippecanoe River & Old 31 for first campsite on Trail of Death.
11:00 Stopped at Rochester court house to visit TD marker.
11:30 Ate at McDonald's at south edge of Rochester.
12:30 Caravan started south on Indiana 25. Drove by Mud Creek camp where first death occurred. Shirley read on CB radio the history from 1838 Trail of Death diary.
1:00 Visited Logansport TD camp by hospital,. Bob Pearl and Sister Virginia Pearl showed Father Petit's chalice, on loan from Vincennes Church, to take on caravan to Kansas.
1:30 Drove across Cass & Carroll counties following Wabash River and Towpath Road: driving by TD markers at Chief Winnemac's old village, Burnett's Arch - a boat bridge of canal, VanderVolgen farm on 800 N &700 W, Pleasant Run at edge of Pittsburg.
4:00 Visited TD marker in front of Battle Field Museum, then drove by Burnett's trading post on Prophets Rock Road, Battle Ground.
5:00 Visited Mrs. Cable Ball's house, 402 S. 9th St., Lafayette to see George Winter pictures. Phone 765-742-6882.
5:35 Drove to TD marker on 500 N &Morehouse Road in Lafayette, LaGrange (town that no longer exists) on 950 W, and on to Independence following Wabash River.
7:00 Ate at Double K Caf, Independence, phone 765-762-3387 or Linda Klinger -owner's home 765-762-2123. Camp at Zachariah Cicott Trading Post Park, Independence. Caravaners in cars went to nearest motel is Attica Inn - phone 765-762-3699.
Sept 23 Tue. - Independence, IN to Monticello, IL 118 miles.
8:00 Breakfast at Double K Caf, Independence. Phone 765-762-3387.
9:30 Williamsport's Trail of Death marker in Old Town park.
10:15 TD marker in Gopher Hill Cemetery, south of Johnsonville. George Godfrey leads caravan into Illinois.
11:00 TD marker in Ellsworth Park, Danville.
11:30 Ate at McDonald's, 109 S. Gilbert, Danville.
12:50 Catlin Museum's TD marker.
1:30 Homer's TD marker on 1250N (Catlin-Homer Road) 1/10 mile east of 250 E about 3.6 miles east of Homer.
1:45-2:30 Gave program at Unity Elementary School, 1620 Co. Rd. 1000 N., Philo, Ill.
3:00 Backtracked to Sidney TD marker in Dunlap Woods Park.
4:00 Sadorus TD marker in Community (Lions Club) Park.
4:30 Stop at TD marker at Monticello City Cemetery on Railroad Street. Walk around bridge to see the first marker on West 100 block of Bridge Street. Contact person: Thelma Tuggle, 217-762-8054.
5:30 Ate at Foster's Bowl, Monticello.
6:30 Gave program at Monticello at United Methodist Church lounge, sponsored by General Federation of Women's Clubs Illinois 19th District. Their Special Emphasis Project for 2002-04 is Native American Culture Then and Now.
8:45 Drove to Friend's Creek campgrounds, Argenta., phone 217-795-2031. Motels in Monticello: Foster Inn 217-762-9835 and Best Western 217-762-9463. Or Super 8 Motel at Decatur.
Sept 24 Wed. - Monticello (Argenta campgrounds) to Exeter, IL 130 miles.
7:30 Breakfast at camp brought by Thelma Tuggle and DAR friends.
8:15 Caravan began.
9:10 Stopped at Sangamon River Crossing TD marker, corner of Dunbar &Caleb roads.
9:30 Decatur TD marker in Mueller Park on Lake Decatur.
10:30 Niantic TD marker.
11:30 Springfield TD maker at 5319 Oak Crest Road by golf course.
12:15 Springfield's Old State Capitol Plaza with TD marker. Illinois PBS taped caravan members as they spoke at TD marker. Ate lunch at Holy Land Restaurant beside Old State Capitol.
1:30 Riddle Hill TD marker at New Salem United Methodist Church. Refreshments served in basement of church.
2:30 Drove by Island Grove TD marker on Robert Hitt farm on north side of highway. History was read on CB radio.
2:40 Jacksonville's new TD marker at Foreman Grove Park.
3:30 Jacksonville TD marker in town square. Serenade by Jacksonville High School band.
4:30 Stopped at pine tree planted by Trail of Death caravan in 1988 in park on west side of Jacksonville.
5:00 Arrived Exeter, parked campers in Exeter town park.
6:00 Ate at home of Roger &Connie Lovelace in Exeter.
7:00 Campfire in Exeter town park. Presentation of plaque to Exeter for having hog roast for our caravan in 1988, 1993 1998 and 2003, to be placed in the Old Calaboose at the park.
8:00 Camped for night at Exeter park. Super 8 Motel at Jacksonville. Contact persons at Exeter: Roger Lovelace 217-754-3580. George Knisley 217-754-3871.
Sept. 25 Thurs. - Exeter to Perry to Quincy, IL to Monroe City, MO (Clifford & Josephine Gander's farm house) 116 miles.
7:30 Lovelaces and Knisleys brought coffee and zucchini bread for breakfast in camp.
8:30 Stopped at Naples TD marker in town park and stopped at levee on Illinois river landing where Potawatomi were ferried across river in 1838, read diary.
9:15 Drove to Meredocia bridge to cross the Illiinois River
9:35 Perry's new TD marker. Gave program for eighth graders from local school.
10:45 Visited TD marker in Liberty town park.
11:30 Mill Creek TD marker east of Quincy. Rudy Vallejo did eagle dance.
12:07 Mass using Father Petit's chalice at St Boniface Church, 117 N 7th St., Quincy, phone 217-222-3000, Father John Carberry.
1:00 Ate at Sonics patio on Broadway.
3:00 Indian Mound Park on south side of Quincy, 5th &Harrison. Last plaque mentions Trail of Death removal of Potawatomi in 1838.
4:30 Dedicated new TD marker at Quinsippi Island, Quincy. Marker by Aaron Bair, Boy Scout. Sponsored in part by Tom Hamilton whose ancestor Abram Burnett was interpreter for 1838 and 1840 removals from Indiana.
5:30 Ate in park pavilion, barbecue by Quincy businesses and North American Archeological Institute. Contact person: Steve Tieken 217-228-1541. Illinois PBS interviewed caravan members for their documentary.
6:30 Visited new TD marker at West Quincy, MO
7:00 TD marker east side of Palmyra.
7:30 TD marker at Hardee's in Palmyra.
8:00 Drove to Clifford &Josephine Gander's farm to camp, phone 573-735-2382. Nearest motels are in Monroe City: Monroe City Inn 573-735-4200 or Rainbow Motel 573-735-4526.
Sept. 26 Fri. - Monroe City to Carrollton, MO 120 miles.
6:45 Mass in Gander's living room by Father Donald Antweiler, using Father Petit's chalice.
8:00 Breakfast at Clifford &Josephine Gander's farm house, 573-735-2382.
9:00 TD marker at Mt Vernon Methodist Church, corner county roads 238 &240.
9:45 North Fork of Salt River (Old Clinton - town that no longer exists) TD marker.
10:40 Paris court house.
11:25 Hutsell Roadside Park, east of Moberly on Highway 24.
11:50 Huntsville court house. Talked to Huntsville 4th graders.
12:10 Ate with Huntsville Historical Society at town hall. Contact person: Dora May Craven 816-277-4486
1:30 Salisbury TD marker in town park in front of Boy Scout log cabin.
2:10 Keytesville TD marker in Sterling Price Park.
2:30 Stopped at James Pecan Farm store.
3:30 Brunswick TD marker on Grand River boat ramp. Gave program to school kids and had refreshments.
4:20 DeWitt TD marker in town park. Gave program to school kids and had more cookies.
5:45 TD marker in front of Carroll County Museum, 510 N. Mason St., Carrollton. Toured museum. Contact person: Lillie Lou Audsley 660-542-1809.
7:00 Ate at Carrollton at JB's Steak House, 109 S. Folger St.
9:00 Camped at Carrollton town park. Super 8 Motel at Carrollton.
Sept. 27 Sat. - Carrollton to Independence, MO 80 miles.
8:00 Drove to Richmond for breakfast at McDonald's across street from Richmond High School.
9:30 Dedicated new TD marker at Richmond High School. Marker sponsored by Friends of Ray County Museum and friends of the Trail of Death Regional Historic Trail.
10:25 Crossed Missouri River to visit Lexington's TD marker beside Madonna of the Trail statue.
11:25 Wellington TD marker in town square.
12:00 Napoleon TD marker in town park.
12:30 Ate at Buckner at Sonic Drive in.
1:30 Fire Prairie Creek Wetland Park on highway 24. Scout leader Gene Pittman led caravan and gave talk in pavilion.
2:00 Toured Fort Osage, replica of 1808 fort built by William Clark (of Lewis &Clark expedition fame).
3:30 TD marker at Bicycle Park on highway M78.
4:20 TD marker in Pioneer Spring Park on Truman &Noland roads, Independence.
5:00 Parked camping vehicles in Campus RV Park, 406 S. Pleasant, Independence, phone 816-254-1815. Super 8 Motel at I-70 &Noland Road, Independence.
5:30 Supper at Courthouse Exchange Restaurant, 113 W Lexington St., Independence.
7:00 Gave program at National Frontier Trails Museum, 318 W. Pacific Ave., Independence MO, phone 816-325-7575.
Sept. 28 Sun. - Independence to Osawatomie &on to Shrine in Linn Co., KS 98 miles.
8:00 Caravan took 71 S to drive to Grandview, led by Scout leaders, Valerie and Charles Hasenyager.
8:45 Ate at IHOP in Grandview on 71 &Blue Ridge road.
9:30 Viewed TD stone marker made for Grandview, which Hasenyager had in his truck. Shirley signed Eagle Scout papers for brothers. Ben and Jake Fishman, Kansas City, to erect the marker.
10:35 Visited TD marker on State Line Road &W 215th St., near Stilwell, Kansas.
11:30 TD marker in Paola in Park Square northeast of the fountain. Dagmar Thorpe, granddaughter of Jim Thorpe, World's Greatest Athlete, joined caravan, as did several members of the Pearl and Slavin families.
12:15 Visited TD marker at Osawatomie at Old Land Office on north 6th Street. Contact person: Andrea Renick-Bell 913-256-4148 home, 913-755-4384 office.
12:30 Ate with Osawatomie Hist. Soc. at Old Stone Church, 311- 6th St.
1:30 Drove to St. Philippine Duchesne Memorial Park on Keokuk Road, 5.5 miles west of Highway 7. Contact persons: Bud Lauer 913-491-9886 of Knights of Columbus. Father Joe Kramer 913-755-2652, or Ola May Earnest, Linn County Hist. Soc. 913-352-8739.
2:15 Arrived at St Philippine park. Walked the grounds, visit all 5 Trail of Death markers, including sign at entrance, wall of plaques with TD diary, 7 wooden crosses with names of the Potawatomi who died there 1838-48, and Trail of Death map on stone. Also 14 Stations of the Cross, the Indian well where they got water 1838-48, etc.
3:15 Dedicated new TD marker, a memorial to Father Petit: boulder from St. Louis &two plaques on wooden post, sponsored by Citizen Potawatomi Nation and. Margaret Twardosz Colbert. Shirley Willard told history of Trail of Death. Tom Hamilton told about Father Petit. Bob Pearl and Sister Virginia Pearl told about St. Philippine Duchesne.
4:15 Mass at circular altar in St Philippine Duchesne park by Father James White, using Father Petit's chalice.
5:00 Indian dancers, age 10 to 21, from Lawrence, Kansas, performed. They are members of Tapedo and Spottedhorse families.
5:30 Tom Hamilton presented Shirley &Bill Willard with adoption certificates making them honorary Potawatomi. Certificate had been signed by all the Potawatomi on the trip.
5:45 Cook-out supper at St. Philippine Duchesne park's trading post, thanks to Knights of Columbus, local people and Linn County Historical Society. After supper all left except for those staying to camp the night in the park.
7:00 Campers met in trading post to recall experiences on caravan and previous caravans and those who "walked on" (an Indian expression for died).
Sept. 29 Monday - Final farewells. All head for home or wherever.
Booklets for sale by Caravan to help with postage and telephone expenses to set up this caravan:
Trail of Death Diary (12 pages, $3 plus $3 S&H),
Trail of Death Regional Historic Trail with pictures of TD markers (50 pages, $7 plus $3 S&H).
A new book, Potawatomi Trail of Death, has been written by Trail of Death Commemorative Committee: Father Petit letters, Trail of Death diary, John Tipton letters, George Winter pictures of Potawatomi on Trail of Death, William Polke, Chief Menominee, St. Philippine Duchesne, maps, muster roll, and biographies written by Potawatomi families who have ancestors on the Trail of Death, bibliography, index (448 pages, $40 plus $6 S&H). These can be purchased by mailing check to Fulton County Historical Society, 37 E 375 N, Rochester IN 46975. For more information, contact Shirley Willard, 574-223-2352 or e-mail
The Trail of Death Commemorative Caravan Coordinators:

Shirley & Bill Willard
3063 S 425 E
Rochester, IN 46975
574-223-2352
E-mail:

George & Pat Godfrey
24108 Burr Oaks Lane
Athens, IL 62613
217-636-8120
E-mail:
Susan & Eric Campbell
3200 C Wawae Road
Kalaheo, HI 96741
808-332-7766
E-mail:
Robert Pearl
12273 Huffman Road
Parma Heights, OH 44130
440-886-0674
Sister Virginia Pearl
R. 1 Box 37
Pawnee Rock, KS 67567
620-923-4585
E-mail:
Tom Hamilton
(Late Summer & Fall Address)
800 E. Arthur Street, Unit H2
Warsaw, IN 46580
574-268-2255
(Winter & Spring Address)
R.2 Box 1872
Checotah, OK 74426
918-689-9700