Chief White Eagle Stories
by Shirley Willard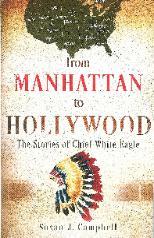 A man who died in 2011 has a new book published, thanks to the efforts of Susan Campbell, who met him at the Trail of Courage and interviewed him several times. She lives in Hawaii, so I helped out by taping his memories and mailing them to her.
Basil Heath, aka Chief White Eagle, was often told that he should write a book about his life and adventures. Beginning in 2005 when he was in his late 80s I recorded many of his memories on a tape recorder. We sat at his kitchen table, he in his usual chair, his wife Bobbie at the other end, and me in the middle. Bill and I would sometimes take a pizza and eat lunch with them, and then out would come the tape recorder.
He made notes of what he wanted to say. As everyone who ever had the privilege of hearing one of his programs recalls, he was a wonderful speaker with a deep "radio voice." During his long career, he had been a soldier, welder, movie actor, television personality, and a historian. He loved history and loved to tell the stories of what he had seen and done. He also loved to tell Indian lore and history, repeating things he had learned from his grandfather, and recounting stories he had read in books.
He was born in 1917 to a Mohawk-Cayuga woman and an English soldier. We don't know exactly why he chose to hide the fact that his father was British in his later life, but he preferred to avoid telling his family relations. He liked to have some mystery in his life, like the old-time movie stars.
We met Baz and Bobbie in 1984 when they lived near Chicago. They retired and moved to Fulton County. He dedicated the new Trail of Courage land in 1985. He planted a Great Peace Tree in 1988 at the Trail of Courage. He gave programs at the Trail of Courage and other events.
His stories include meeting the Kennedy kids, John, Bobby and Kathleen, in England, serving in the British Army in England and Africa, and the battles and destruction he witnessed in London during World War II. His descriptions are so vivid, you could see it all in your mind as he told his stories. He also told about a trip to Germany as the guest of the Prince of Bavaria, and their wedding in Chicago in which he did the Indian wedding ceremony.
Baz was nearly killed 29 times and he described many of them, such as being shot at in war, knocked into a ditch by a speeding car, sliding off a snowy road, etc.
Susan Campbell, a member of the Citizen Potawatomi Nation, interviewed Chief White Eagle in 1998 and 2008, and promised to write his book. She and husband Eric retired to Hawaii. I sent the tapes to her and she typed them. Then Baz got sick and died in 2011. Meanwhile Susan continued to work on the book, researching to verify and amplify the dates and facts, writing and rewriting to get his voice just right. She organized the book into chapters to make the text flow more smoothly, with assistance from her daughter Rhian.
Last month Susan excitedly emailed me that the book was done and being published. It came out August 15, 2014.
I got a copy of the Chief White Eagle book on Monday and read it all before going to bed that night, could not put it down. It is great, just like he is talking to me. I could hear his voice. Susan did a terrific job on organizing, researching and filling in the missing pieces.
From Manhattan to Hollywood - The Stories of Chief White Eagle by Susan J. Campbell. This amazing book reads just like Baz was talking to you. It has soft cover, 205 pages, index, end-notes, black and white photos. It is for sale at the Fulton County Museum. Local sales benefit the Potawatomi Trail of Death Assn.
The book sells for $18 plus $5 shipping and handling. It is for sale at the Fulton Co. Historical Society, 37 E 375 N, Rochester, IN 46975. To save shipping, get a copy at the museum gift shop, which is open Monday - Saturday from 9 a.m. to 5 p.m.